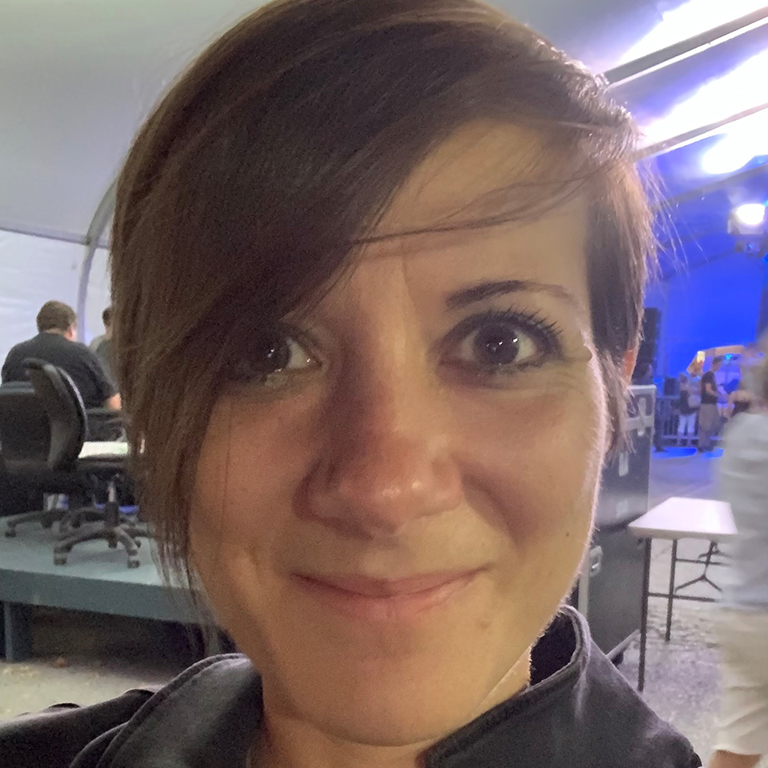 Teresa Kovacs
Assistant Professor, Germanic Studies
Affiliate Faculty, Cultural Studies
Adjunct Assistant Professor, Theatre, Drama and Contemporary Dance
tekovacs@iu.edu

Global and International Studies Building 3104
Office Hours

F

riday

11:30 a.m. - 12:30 p.m.
Education
Ph.D., University of Vienna
Fields of interest
contemporary theater and performance
theater theory
posthumanism
landscape and urbanism
globalization, migration and transcultural theater
politics of aesthetics
cultural analysis
intermediality
comedy
gender and queer theory
Elfriede Jelinek
Christoph Schlingensief
About Teresa Kovacs
My research focuses on contemporary theater and performance with a specific interest in the politics of aesthetics and theater theory. I engage with the sociopolitical dimension of theater and performance in times of neoliberalism and globalization. Specifically, I am interested in how theater starts a dialogue with the public urban space and how it resonates in a multicultural society.
I studied German literature as well as theater, film and media studies at the University of Vienna. Most recently, I was a visiting scholar at the University of Michigan (funded by the Austrian Science Fund). Before, I held a position at the University of Vienna where I taught in the Department for Theater, Film and Media Studies as well as the German Studies Department.
My first book Drama als Störung. Elfriede Jelineks Konzept des Sekundärdramas [Drama as Disruption: Elfriede Jelinek's Concept of the Secondary Drama] (2016) focuses on different theoretical approaches to the principle of disruption and deals with the critical and political dimension of this concept as deployed by Nobel-prize laureate Elfriede Jelinek. My second book is interested in contemporary theater and performance's engagement with destruction and decay. I explore how theater takes up a ruinous practice to reflect on the human condition in the late 20th and early 21st centuries. In addition, I'm co-editor of several volumes on theater and performance studies.
Awards
Wendelin Schmidt-Dengler-Award, Austrian Society for German Studies (2017)
Women in German Dissertation Prize (2017)
Doc.Award, University of Vienna and City of Vienna (2016)
Selected publications
Monographs
Drama als Störung. Elfriede Jelineks Konzept des Sekundärdramas. Bielefeld: transcript 2016 (= Theater 88). [Drama as Disturbance: Elfriede Jelinek's Concept of the Secondary Drama]
Edited books
Postdramatic Theatre as transcultural Theatre / Postdramatisches Theater als transkulturelles Theater. (ed. with Koku G. Nonoa) Tübingen: Narr 2018 (= Forum Modernes Theater). Elfriede Jelineks Burgtheater – Eine Herausforderung. (ed. with Pia Janke and Christian Schenkermayr) Wien: Praesens Verlag 2018. [Elfriede Jelinek's Burgtheater: A Challenge]
Schreiben als Widerstand. Elfriede Jelinek & Herta Müller. (ed. with Pia Janke) Wien: Praesens Verlag 2017. [Writing as Resistance: Elfriede Jelinek & Herta Müller] "Postdramatik". Reflexion und Revision. (ed. with Pia Janke) Wien: Praesens Verlag 2015. ['Postdramatic:' Reflection and Revision]
Der Gesamtkünstler. Christoph Schlingensief. (ed. with Pia Janke) Wien: Praesens Verlag 2011. [The 'Gesamtkünstler:' Christoph Schlingensief]
"Die endlose Unschuldigkeit." Elfriede Jelineks "Rechnitz (Der Würgeengel)." (ed. with Pia Janke and Christian Schenkermayr) Wien: Praesens Verlag 2010. ['The endless innocence:' Elfriede Jelinek's Rechnitz]
Articles and book chapters (peer-reviewed)
"Travelling Concepts, Travelling Theatre? Transcultural Translations of Performance in Wunderbaum's Looking for Paul." (with Katharina Pewny) In: Kovacs, Teresa / Nonoa, Koku G. (ed.): Postdramatic Theater as transcultural Theater. Tübingen: Narr 2018, pp. 71–86.
"Disturbance in the Intermediate. Secondary Drama as a Parasite." In: Koch, Lars / Nanz, Tobias / Pause, Johannes (ed.): Disruptions in the Arts. Textual, Visual, and Performative Strategies for Analyzing Societal Self-Descriptions. Berlin: de Gruyter 2018, pp. 339–346.
"Zwischen Ohnmacht und Autonomie. Christoph Schlingensiefs Theater der Angst." In: Limbus. Australisches Jahrbuch für germanistische Literatur- und Kulturwissenschaft 2017, pp. 63–80. [Between powerlessness and autonomy. Christoph Schlingensief's theater of fear]
"Elfriede Jelinek and Ewald Palmetshofer in between. Sedimentations, Enclosures and Overlyings of Dramatic Formations in Contemporary German-language Playwriting." In: Augustová, Zuzana / Jiřík, Jan / Jobertová, Daniela (ed.): Horizonty evropského dramatu. Prague: Kosmas 2017, pp. 243–260. − Polish translation: Dialog 4/2016, pp. 228–237.
"Criticizing Americanness, Criticizing Austrianess. Paul McCarthy, Mike Kelley, Elfriede Jelinek." In: JELINEK[JAHR]BUCH. Elfriede Jelinek-Forschungszentrum 2016-2017, pp. 187–202.
"Widerständiges Schreiben. Subversion bei Elfriede Jelinek und Herta Müller. In: Janke, Pia / Kovacs, Teresa (ed.): Schreiben als Widerstand. Elfriede Jelinek & Herta Müller. Wien: Praesens Verlag 2017, pp. 237–252. [Resistive writing. Subversion by Elfriede Jelinek and Herta Müller]
"'…die ehernen Blöcke männlichen Schaffens umkreisen.' Elfriede Jelinek queert Lessing und Goethe." In: Aussiger Beiträge 10 (2016), pp. 81–97. ['...circling the monuments of male creativity:' Elfriede Jelinek is queering Lessing and Goethe]
"Schwarm und Schwelle: Migrationsbewegungen in Elfriede Jelineks Die Schutzbefohlenen." (with Silke Felber) In: Transit 10.1/2015, (January 12, 2016). [Swarm and Threshold: Migratory Movements in Elfriede Jelinek's Charges (The Supplicants)]
"Unterbrechung, Übermalung, Dialog. Elfriede Jelineks "Sekundärdrama" im Dialog mit Lessing / Goethe." In: Janke, Pia / Kovacs, Teresa (ed.): "Postdramatik". Reflexion und Revision. Wien: Praesens Verlag 2015, pp. 226–241. [Interruption, Overpainting, Dialogue: Elfriede Jelinek's Secondary Drama in dialogue with Lessing / Goethe]
"Fläche und Tiefenstruktur. Die leere Mitte von Geschichte in Jelineks Rechnitz (Der Würgeengel) und Winterreise." (with Monika Meister) In: Janke, Pia / Kovacs, Teresa (ed.): "Postdramatik". Reflexion und Revision. Wien: Praesens Verlag 2015, pp. 119–129. [Surface and Depth Structure: The Empty Center of History in Jelinek's Rechnitz]
Articles and book chapters (non peer-reviewed)
"Flowing Space. Theater – Raum – Bewegung bei Christoph Schlingensief und Friedrich Kiesler." In: Degeling, Jasmin / Knapp, Lore / Pogoda, Sarah / Lindholm, Seven (ed.): Christoph Schlingensief und die Avantgarde. München: Fink 2019, pp. 153–172. [Flowing Space. Theater – Space – Movement in the Works of Christoph Schlingensief and Frederick Kiesler]
"Störung! Formen der Überlagerung in Elfriede Jelineks Sekundärdrama." In: Donat, Sebastian / Fritz, Martin / Raic, Monika / Sexl, Martin (Hg.): Interferenzen - Dimensionen und Phänomene der Überlagerung in Literatur und Theorie. Innsbruck: Innsbruck University Press 2018, pp. 107–121. [Noise! Forms of superposition in Elfriede Jelinek's secondary drama]
"'Fremd bin ich eingezogen, fremd zieh ich wieder aus.' AußenseiterInnentum und Innere Emigration bei Elfriede Jelinek und Thomas Bernhard." In: Golaszewski, Marcin / Kardach, Magdalena / Krenzlin, Leonore (ed.): Zwischen Innerer Emigration und Exil. Deutschsprachige Schriftsteller 1933-1945. Berlin: de Gruyter 2016, pp. 205–215. ['I came here a stranger / as a stranger I depart:' Alienation and Inner Emigration in the Literature of Elfriede Jelinek and Thomas Bernhard]
"Sanktion und Selbstzensur. Elfriede Jelineks Aufführungsverbote für Österreich." (May 20, 2014) [Sanction and Self-Censorship: Elfriede Jelinek's Performance Bans for Austria]
"'Nimm hin und iß mein Fleisch.' Zum Kannibalismusmotiv im Epilog von Elfriede Jelineks Rechnitz (Der Würgeengel)." In: Janke, Pia / Kovacs, Teresa / Schenkermayr, Christian (ed.): "Die endlose Unschuldigkeit". Elfriede Jelineks "Rechnitz (Der Würgeengel)". Wien: Praesens Verlag 2010, pp. 289–309. ['This is my body which is for you:' On Cannibalism in the Epilogue of Elfriede Jelinek's Rechnitz]